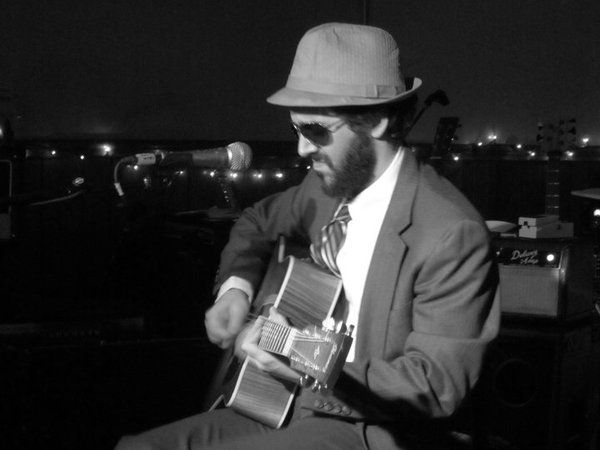 Chris Hatton
The Mostly Factual, Band Autobiography
I perform over 150 local and regional gigs a year. Most of them are solo gigs in which I utilize a guitar, microphone, synthesizer, percussion and a loop pedal. One of my main goals when performing, is to make music on the loop pedal that feels as human as possible. Using a loop pedal is never, and will never be as good as playing music with other human beings. At the same time, it doesn't have sound robotic and boring.
Every Thursday night for the past 4 years, I've played a 3-hour gig at Brothers Lounge Wine Bar in Cleveland, Oh. It is billed as The Musical Circus. Since the circus began in 2012, it has featured hundreds of guest musicians, and just as many random acts of spontaneous musical shenanigans.
Almost every Friday for the past 3 years, I've played at one of the seven Burntwood Taverns in The Cleveland/Akron Area. These gigs are more laid back and cover heavy. There's a lot of classic rock, 80s and 90s at these gigs. Just a good, mellow vibe.
In the summer of 2015, I did a weekly residence at The Music Box Supper Club on the West Bank of the Flats in Cleveland. The theme of this gig was 'Yacht Rock.' Michael McDonald, Toto, and Steely Dan were strongly represented. Boat Drinks were had, and there was no shortage of chest hair.
Playing as often as I do forces me to constantly change and experiment with the music I play. Not only to keep it fresh for the audience, but to keep from getting bored. If I'm not having fun playing, how could I expect anyone else to have fun. I learn 2 or 3 new songs a week. I rarely play any of my original music the same way from night to night. More than a few promoters/booking people have expressed to me that they like what I do but I'm hard to book because I don't fit a certain genre or style. I take that as a compliment.
From time to time, When the stars align, and all is right with the world, I get to perform with The Italian Sound Machine (Joe Barone, keys, Nick Ammons, guitar, Alfredo Guerrieri, bass, Joe Stefano, drums.) These are four tremendous individuals that I'm lucky to have playing songs that I write. They are all 100%, top notch, A1 human beings.
We once played a gig at The Stone Tavern in Kent that was so good it made the whole band, and everyone in the venue, float up and hover 2 inches over the ground until the set concluded. Following the gig, I went sleepless for four straight days. On the fourth day, my spirit animal came to me and gave me the music for my next album. It was a Praying Mantis and the music I was given would become 'Into The Universe.'
Into the Universe is scheduled for release on March 24th 2016. Some of the poignant subjects that I tackle on this new album include fighting with your chick, lawnmowers, praying mantises and various other insects, extraterrestrial recording techniques, bartenders, and cosmic wave transcendence.
I've released 3 albums under my name and with I.S.M. (The Beard Album 2012, Womown 2013 and Into The Universe 2016) as well as a handful of digital singles. They were all recorded, mixed and mastered at the Analog Beard Child Care and Recording Facility in sun-shiny Seven Hills, OH. On The Beard Album and Into the Universe, I played all the instruments other than Saxophone. Which was handled wonderfully by Bettyjeane Quimby. It also featured guest drum tracks by Joe Stefano and Tommy Rich. On Womown, I was backed up, quite nicely, by the Italian Sound Machine.