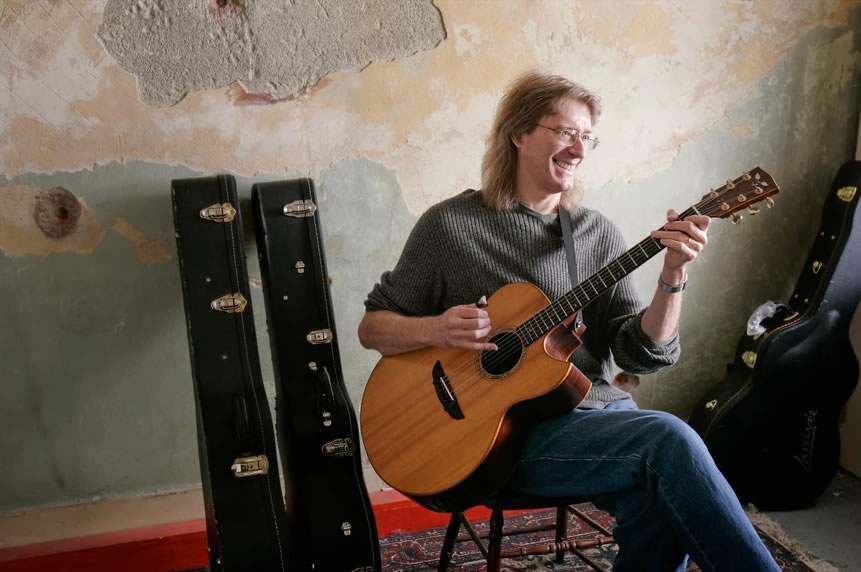 Doug Smith
Doug Smith is a nationally recognized acoustic guitarist who weaves together folk, classical, jazz and contemporary forms into a unique, flowing fingerpicking style recalling the playing of Chet Atkins, Leo Kottke, Michael Hedges, and Alex de Grassi.
Doug Smith's playing style has developed through many influences over the years. He began playing in the mid-60's when he was around 10 years old. His parents wanted him to take piano lessons (as had the rest of the family), but Doug had developed an interest in the Beatles and was drawn to the guitar instead, so he began guitar lessons from a local music store and continued these lessons for about a year.
At first, Doug's playing style revolved around strumming on a steel-string guitar. Then one day he saw Chet Atkins with the Boston Pops orchestra on television. After that he changed his direction to pursue finger-picking style. He also began playing nylon-string guitar almost exclusively (when he played acoustic). During this time Doug taught himself using Fredrick Noad's book "Solo Guitar Playing." Other musical influences during this time were singer/songwriters such as James Taylor, Harry Chapin, Don McClean, and Gordon Lightfoot. Throughout this period Doug played in rock bands, focusing especially on the music of Genesis, Jethro Tull, Yes, and other progressive rock bands of the time. In the band he played mostly bass and some electric guitar. On his own he wrote solo pieces for the acoustic guitar. After high school Doug attended Cal State, Fullerton, where he majored in classical guitar. The formal education in music and composition added to his technique, style, and writing ability.
In the late 70's Doug heard John Renbourn's album "The Hermit", and once more Doug changed his direction, this time in two ways (and recently Doug played a concert with John in the crowd–a true honor for Doug!). First, he switched his focus back to steel-string guitar (which he now plays almost exclusively). Second, he became interested in alternate tunings. Most of Doug's original songs now use alternate tunings. Doug also credits other guitarists, such as Alex de Grassi and Michael Hedges, as influencing his use of alternate tunings . Around 1989, John Archer of American Gramiphone Records, heard a demo tape of Doug and signed him to record. Doug completed two albums with American Gramiphone: " Order of Magnitude " and " Labyrinth ". Besides his solo albums with AGR, Doug has contributed to several of American Gramiphone's popular DayParts series: "Sunday Morning Coffee", "Dinner", "Romance", and "Sunday Morning Coffee II." In addition, Doug has been featured on KINK-FM's Light's Out III & IV , a benefit for the Oregon Food Bank. He has also been featured on the nationally syndicated radio shows "Echoes" and "River City Folk" on National Public Radio (NPR).
Doug later recorded " Deep Heart " with Honest Records and at the same time Honest published the " Best of Doug Smith " album. In 1998, Doug put out his hit CD on Solid Air Records (AMR) , " Alone at Last " which finally features Doug in an entirely solo acoustic setting. This album was co-produced by Lawrence Juber, fellow acoustic guitarist and former lead guitarist of Paul McCartney's band Wings. In 2001, Doug completed two CDs, both duo albums! The first is with fellow Acoustic Guitar Summit guitarist, Mark Hanson and is called " The Power of Two " and the second is another classical album with another Acoustic Guitar Summit guitarist and classical music composer, Paul Chasman called " For You ". His first two albums " Order of Magnitude " and " Labyrinth " were re-released in 2000! And most recently in December 2002, Doug's latest solo album (and first self-produced!), Alone Again has been released with a compilation album called, Doug Smith, The Collection. In February of 2005, Doug and the other fantastic guitarists from Solid Air Records, won a Grammy Award for "Best Acoustic Pop Album" for the album, " Henry Mancini – Pink Guitar ".
In September 2006, Doug won the prestigious International Fingerstyle Guitar competition in Winfield, Kansas. This is a tough competition playing with some of the best players in the world.
Doug's music has been heard on radio and T.V. stations throughout the country, including The Discovery Channel, Martha Stewart Living, CNN, TNN, ESPN, and Encore. He also played guitar on the soundtracks for the recent movies " Moll Flanders " and " Twister " .
Doug Smith is a well traveled performer, serving as the opening act for such musicians as Liz Story, David Lanz, Strunz & Farah, and Richard Elliot, as well as performing solo in various venues and festivals around the country. He's also an accomplished vocalist, including music from David Wilcox, Dan Fogelberg, Gordon Lightfoot and Richard Thompson.
Doug currently resides in Portland, OR where he teaches guitar, writes and performs. The incredible music keeps on coming from this amazing artist ~ Enjoy!
Doug plays James Goodall and Lance McCollum guitars.