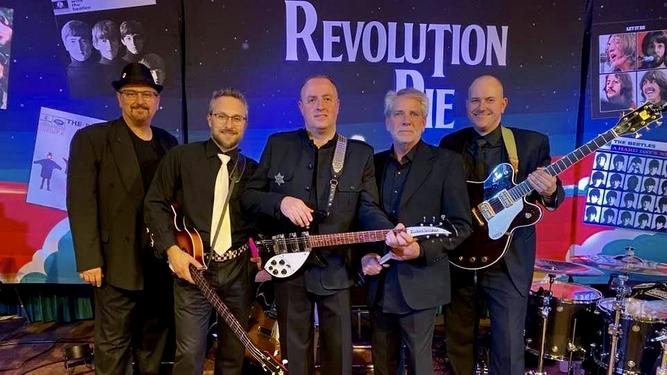 Revolution Pie
Recognized as one of Northeast Ohio's premier Beatles bands, Revolution Pie specializes in re-creating the music, vocals, and essence of the finest pop songs ever written and recorded by the greatest band in musical history.
For 18 years, Revolution Pie has brought their high energy and family friendly performance to thousands of Beatles fans at a wide variety of venues and events such as Abbey Road on the River, Cleveland Indians Rock-N-Blast, The Cleveland Browns Stadium, Cleveland Clinic Velosano, Cleveland MetroParks Edgewater Park, FOX 8 Morning Show, Public Square Paul McCartney Rally, American Red Cross, American Cancer Society, Komen Race for the Cure, Cleveland Zoo, Ariel Foundation Park, Kenyon College, House of Blues, Beachland Ballroom, Music Box Supper Club, Akron Civic Theater, Akron Leadership, Legacy Village, Parma Rib-N-Rock, Northcoast Beatle Fest, Rubber City Beatle Fest and many city and regional concert events. They also had the privilege of opening for music legends
Peter Asher of Peter & Gordon and Denny Laine of Moody Blues and Wings.
Revolution Pie includes veteran musicians Ralph Criswell on rhythm guitar and lead vocals; Chris Spisak on bass guitar and vocals; Peter Telari on drums and percussion; Michael Carlozzi on keyboards, percussion and vocals and Jim Bossler on rhythm guitar, lead guitar and vocals. This talented group brings to the stage their collective musical talents and skills while performing from a list of over 100 songs drawn from all 13 studio albums recorded by the Beatles.
Whether it's the music of the early mop top era, the psychedelic era, the hippie era, or the rooftop era of the Beatles legendary career, Revolution Pie has consistently delivered both the music and the memories associated with the Beatles.